Two summers ago I spent two weeks in Seoul, and while I liked it, it wasn't on my list as a city to keep coming back to.
Yet I've now been back twice, but only because when I was trying to get home from my walk across Japan I found it was cheaper to buy a round trip ticket from Seoul to New York City than it was to buy a one way from Tokyo.
So in July I went to Seoul for a few days before going home, with the idea to use the return ticket to do another Asian trip in October, starting in Korea, the details to be figured out later. Those details started to come together on my last night in Seoul, when a friend took me to the bar Beatles, that I absolutely loved.
It is a place I wouldn't had gone to by myself unless my friend insisted. I thought it was some cheesy themed thing, that was either a hostess club, or something else with expensive drinks tied to some gimmick. It didn't help that it was down a flight of stairs into what looked like a dank cramped basement.
The minute I entered though, I knew that although it was a themed thing tied to a gimmick, it was my type of themed thing and my type of gimmick. A bar built around rock music, specifically rock music from the '60s through '90s, curated by a DJ that takes requests.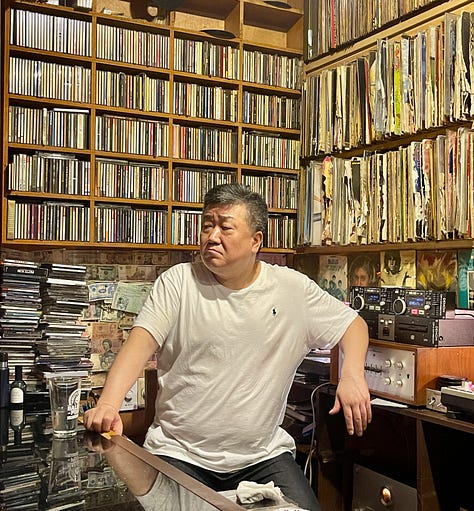 That night my friend and I spent three hours writing obscure, and not so obscure, rock songs on tiny pieces of paper that we handed to the DJ, who added them to a pile of tiny pieces of papers, from which he chose songs to either play, ignore, or one up everyone by playing something related, but "better," which if you know rock nerds, means something even more obscure.
I also learned bar Beatles wasn't a one-off thing. There are about a hundred similar places in Seoul, with names like Led Zeppelin, Cream, Woodstock, The Last Waltz, Seoul Vinyl, and so on. The generic term for them is LP bar, and that night I realized it would make a fun little project to go to some of them, talk to the owners, and try to figure out what had gotten them into collecting music.
So when I finally planned my October trip, I booked five nights in Seoul before I would fly to Mongolia, which seemed like a nice way to also deal with the jet lag from being twelve hours flipped.
Last week, on my first night back in Seoul, despite a long sleepless flight, and maybe because of the jet lag, I rushed off to the Woodstock, the LP bar closest to my apartment in Sillim, where I spent close to six hours, mostly as the only customer there, with the two DJs, Mr Moon and a woman I nicknamed Nine Inch Nails, because that was her favorite band1.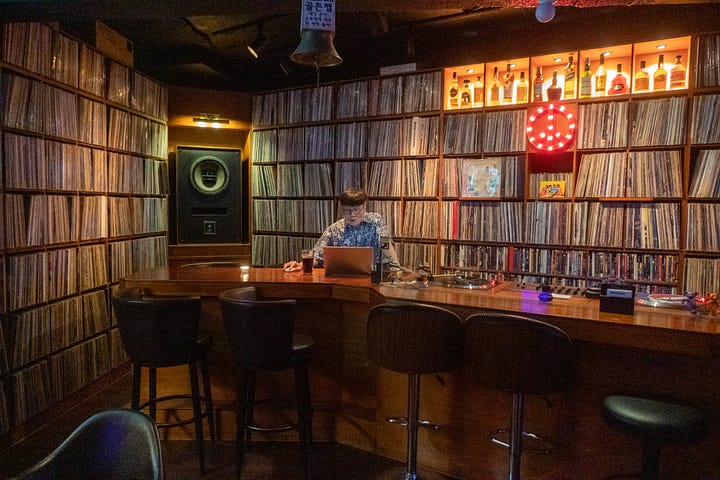 Why do I remember Mr Moon's name, but not hers? Because earlier when I'd requested "Killing Moon" by Echo and the Bunnymen, he laughed, wrote "Bad!" on a note, and said, "That is my name. They want me dead."
I had a great night talking about the music I'd grown up with, including some pretty obscure southern rock bands, with two Koreans who had never been to the south. I also learned a lot, especially towards closing time when Mr Moon gave me an LP tour of Korean rock history, and talked about how collecting American music during the '70s was a way for him and his friends to be a little subversive against the then military dictatorship.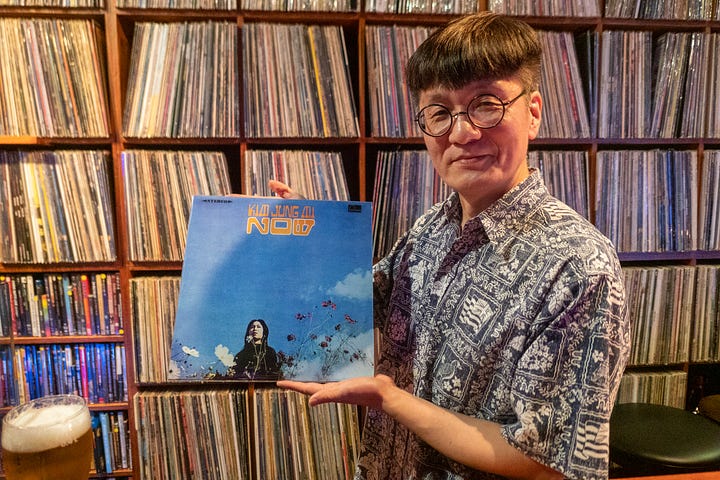 I spent the next three nights in other LP bars where I also had a great time, although I never found another DJ who matched my taste as much as Mr Moon did2, with his surprisingly large collection of American country music, the only one I found in Seoul. I also appreciated his snobbery, like when he told another poor customer that he wouldn't play any K-pop, which sent him sulking out the doors.
One of my curses in life though is not being content with only having a good time. I had hoped to also learn something from the LP bars, exactly what I wasn't sure of, but cultural borders are rich with insights, and Korean collectors of classic rock seemed to be one of those borders.
Yet after four nights in the LP bars I'm not sure I learned anything deeper than, "People really really like US pop culture," something I already knew very well. You figure that out in a few days no matter where in the world you are, and without having to spend four nights drinking.
This post is for paid subscribers