I was hesitant about going to Israel. I was having a great time in Amman and although Tel Aviv was only 100 miles away, it wasn't particularly easy to get to. Not by bus at least, even though I have the ace of spades for crossing the border, an American passport.
I also didn't want to wade into Middle East politics1, a reluctance that was partly cowardice, but also a recognition of knowing what I don't know, and two weeks in the Middle East is hardly the platform to preach from.
I went anyways, because if I wanted to understand Amman, I had to at least see Israel, or as everyone I met on the streets called it, Palestine. And those people didn't fly to Tel Aviv, they crossed the border the same way I was going to, by a series of cabs, buses, and check points.
So I went to the Amman bus station at 7 am, only to find the daily bus to the King Hussein bridge border crossing had already left. Which wasn't a big problem, because a cab driver, Abdel, spotted me and knew exactly where I was going, and offered to take me for $202, a trip he's made 'hundreds of times a year. For over twenty years.'
So began a hundred mile trip of two cabs, three buses, one train, that crossed at least seven checkpoints, and took seven hours. An old fashion border crossing, from back when neighbors feared and hated each other more than they do now.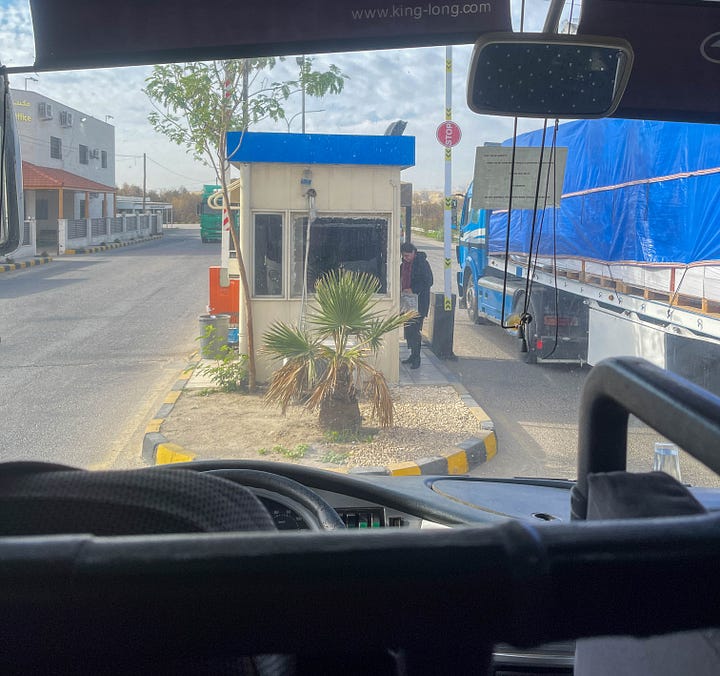 A trip that would've taken longer without my American passport, which allowed me to go on a VIP bus through the two miles of no man's land between the last Jordanian checkpoint and the first Israeli checkpoint, and then allowed me through Israeli customs with only a few cursory questions.
This post is for paid subscribers