Walking (kind of) Tel Aviv
A bus from Amman, disappointment, and an old man bar
I was hesitant about going to Israel. I was having a great time in Amman and although Tel Aviv was only 100 miles away, it wasn't particularly easy to get to. Not by bus at least, even though I have the ace of spades for crossing the border, an American passport.
I also didn't want to wade into Middle East politics
, a reluctance that was partly cowardice, but also a recognition of knowing what I don't know, and two weeks in the Middle East is hardly the platform to preach from.
I went anyways, because if I wanted to understand Amman, I had to at least see Israel, or as everyone I met on the streets called it, Palestine. And those people didn't fly to Tel Aviv, they crossed the border the same way I was going to, by a series of cabs, buses, and check points.
So I went to the Amman bus station at 7 am, only to find the daily bus to the King Hussein bridge border crossing had already left. Which wasn't a big problem, because a cab driver, Abdel, spotted me and knew exactly where I was going, and offered to take me for $20
, a trip he's made 'hundreds of times a year. For over twenty years.'
So began a hundred mile trip of two cabs, three buses, one train, that crossed at least seven checkpoints, and took seven hours. An old fashion border crossing, from back when neighbors feared and hated each other more than they do now.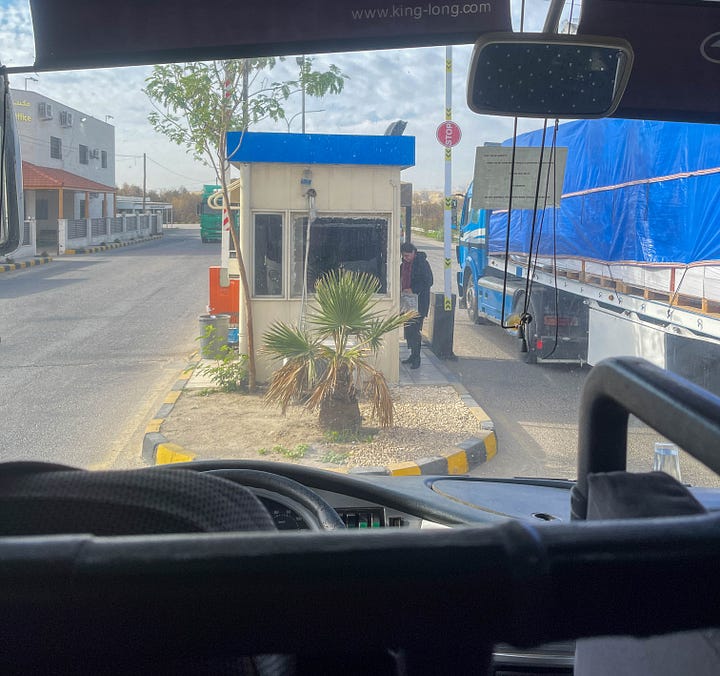 A trip that would've taken longer without my American passport, which allowed me to go on a VIP bus through the two miles of no man's land between the last Jordanian checkpoint and the first Israeli checkpoint, and then allowed me through Israeli customs with only a few cursory questions.
The VIP bus didn't seem all that VIP-y, beyond costing more and segregating me from the riff-raff', whose buses left more often and looked the same, beyond carrying the bags in large wire trailers towed by the bus.
J, another American on the VIP bus, didn't have it so easy. He was from Las Vegas, carrying both a US and Palestinian Authority passport, on his annual trip to see his family in Ramallah, resigned to what was about to come. "They will hold me for a few hours waiting, maybe to make me nervous, or just to fuck with me, before letting me go through."
I suppose here I'm required to say how awful it was and talk about some big political issue, but it was mostly tedious. A well controlled, somewhat confusing, series of bureaucratic obstacles, with everyone involved, especially on the Jordanian side, cheerful, polite, and apologetic.
The politics comes later, when I finally got on the train out of Jerusalem, and the incongruity of the poverty, both physical and economic, of the West Bank (and Amman) became impossible to ignore relative to the abundance of Israel, and especially Tel Aviv.
Tel Aviv is a small rich town that is growing, mostly higher, with a skyline thick with cranes. It is also a very beautiful and pleasant town, with ten miles of shoreline that resembles Miami's South Beach, but with exceptional hummus and yarmulkes (well, more of them).
While crossing the border there are a few teasers of the incongruity to come. Like the bus into Jerusalem being stopped by apathetic khaki-clad teen soldiers holding Tavor assault rifles and bedazzled phones dangling cat and anime charms. Or the tiny kids climbing a fence into a Ramallah gas station, who when I waved to them through the bus window, stuck their tongues out at me.
But you can quickly and easily ignore all of that, all the dusty and dry poverty of the West Bank, when you are sipping a bespoke latte on the Tel Aviv beach where the only immediate annoyance is the huge number of strollers hemming you in.
Or walking through one of Tel Aviv's many upscale or artsy districts. Although seeing a public art work loudly claiming "Freedom is in your mind" seems a bit odd in a city partly populated by a generation who suffered the holocaust.
Maybe it was not wanting to deal with all that incongruity that made Tel Aviv not my kinda town. Or maybe it's just not my type of town. Regardless, I wasn't crazy about Tel Aviv.
It is a nice town mind you. A really nice town, in a comfortable but expensive sort of way. Yet it didn't do anything for me. I knew that on my first day, when I walked its entire length, which wasn't that hard given how small it is, and came back with only four or five pictures.
My heart wasn't in it. I felt I had seen it before, what with having lived in NYC for twenty years, and Tel Aviv after that first walk felt like a clean modern Manhattan, with LA weather, and a Miami Beach grafted on. A thoroughly material and modern place, with little of the sublime and transcendent I'd expected and hoped to find.
I kept trying to find what made it one my father's favorite towns, but instead I kept getting grumpier and grumpier, and so for the next week ended each walk earlier and earlier and spent most of my time at a small bar, a place next to the Levinsky market in the Florentin neighborhood
. A bar I stumbled into my first night just off the last leg of the long boring trip from Amman.
It is an easy place to spend lots of time at because almost everyone there spends lots of time at it. On my second visit I already recognized half the bar, and they remembered me. Especially the bartender/owner who although he spoke no English, turned me into another regular who was brought what I was going to order before I ordered it.
It is close to my perfect bar. A place literally named Bar, with grumpy old men sitting at flimsy plastic tables out front, Formica tables inside, that serves a great draft (Goldstar) and has the perfect bar food of pickled fish, olives, challah, and chopped liver.
On my third visit I realized the regulars brought their own homemade food to share. Including the two guys in the cover picture, both who loaded my table with pickled and salted fishes, several spreads, and eggs that were ambrosial.
That picture is from around 2 pm on Friday, when the bar was in a light simmer as Shabbatt closed in. The drinking had started at 8 am that morning, with a few determined regulars, including some coming in from out of town
, and each hour brought more and more customers, more and louder drinking, that reached a mad geriatric boil as the sun dipped behind the buildings.
At 4:30 pm it was like last call in the Lower East Side on a Saturday night, but in daylight, and instead of frat boys yelping and high fiving, it was a mass of drunk old men hugging, chugging, with a few loudly reciting Jewish prayers to placate or please the roving and proselytizing Lubavitch's.
One man, the guy in the right of the picture with the dyed and greased hair, determined not to let the evening end, came up to me, slapped me on the shoulder, and euphorically shouted, "Second place!", seemingly the only English he knew, then gently worked his over-70 body into the sidecar of a motorcycle that zoomed off with a cloud of smog, presumably headed to the secret second place that didn't shutter at sundown.
Another hobbled home with the help of his cane, after doing two quick shots, and when I offered to help him, waved me away with a "I do this every Friday. Don't worry."
That was the high point of my time in Tel Aviv, but I didn't know it then and kept trying to find something better. Kept walking all over the city, hoping to find anything that clicked with me, beyond drunk old men. Anything that didn't feel like a slightly different version of a well-to-do US city.
But it never happened. The walks always ended with me sitting in one of those precarious white plastic chairs, sipping Goldstar, disappointed. Wondering what I was missing, or if and why I was being such a reverse snob.
At my meanest and most depressed I found myself thinking, 'we Jews spent over a millennium waiting to have our own land, and this is what we've built? An upper middle income town of modern luxuries and easy living?'
That's remarkably unfair though. Happiness and contentment, no matter the form it takes, should be celebrated, not sneered at. Romanticizing struggle, even a little, is a nasty license of the bored and fortunate.
If that wasn't clear, then Gideon, a regular at the bar, certainly reminded me of that on my second to last day in Tel Aviv. A day when the bar was almost empty, beyond me and him and a few others.
He had seen me before, and asked why I was there, and I told him to drink. He asked, no, why are you in Israel? I mentioned, probably from the guilt of not having done it, that I was looking to contact some of my father's distant relatives who had been forced to leave Germany.
He said he had also left Germany, soon after the war, and then pulled out his "Holocaust survivor" card. Something I didn't know existed, and that according to a blunt Google translation is issued by the "The Authority for the Rights of Holocaust Survivors" and allows him "Exemption from waiting in line and exemption from payment for an escort."
Before I could say anything he added something to the effect of 'But don't feel sorry for me. I've had a good 86 years of life, no matter how badly it started."
I said, oh really, that's great, what did you do?
He laughed, "I worked, drank a lot, and fucked a lot."
Then offered up a cheers with his glass.
Indeed Gideon. We are all looking for the good life. No matter how we define it.
---
Muslim and Christian Cemetery (South Jaffa)
Usually if I spend a week walking a town, I have a second piece on "the things I like about X", featuring four or five peculiar and special places. I don't have those for Tel Aviv, beyond the bar.
That's partly my fault, for not really trying, but it's also because Tel Aviv isn't really my type of town. A little too new and uniform for me. Still I'm sure there are lots of special things in Tel Aviv, especially in Jaffa and further south.
On my last walk I found two older cemeteries on the water's edge.
Both occupy what is now presumably highly sought after land, on cliffs above the shore, with stunning views of Mediterranean sunsets. Land that I'm sure developers want to build more of Tel Aviv's apartment towers.
The Christian cemetery was open, and had hens and roosters roaming around it. The Muslim one, just north of it, was closed when I was there, so all I got was a small peek over the wall of tomb after tomb, right up to the cliff's edge, all back-dropped by the blues of the sea.
I would have spent more time here had I found it earlier, and used it as one of my regular rest points for a walk.
I'm not really a cemetery guy, from a "oh wow the history" thing, but I am a cemetery guy from a "they are a nice place to get away from the noise and crowds of a city. Even better than parks" thing.
1
Another luxury the passport offers me, but one that seems most people can't pull off. What with social media and all.
2
Twice the cost of the bus, but not bad all things considering.
3
Exact address is Matalon St 41, Tel Aviv. Here is a small video about the place,
4
Many of the guys said they had been priced out of Tel Aviv, and lived in the burbs, or further away.